Three Days Well Sent. A Big Air Film.
After solely focusing on the Big Air contests in Cape Town for weeks, Ocean Rodeo teammates Giel Vlugt and Keh-Lung Su decompress by packing the essentials into the back of a truck and hitting the road in search of a new backdrop to that of the cloud-covered Table Mountain.
We follow their journey, from a small, isolated cove surrounded by towering mountains and ringed by an old train track, to the contrasting hive of activity of the local bathing pools, that offer perfect, butter-flat conditions, where the local children even step up to caddy for local boy Keh-Lung.
The final stop took them to 'The Holy Water', on the map for allegedly having briefly accommodated the largest bull shark ever recorded…
Day 1: The Mush
On day one we kited a small nook on the Southern Peninsula near Cape Point known as 'Glencairn'. It is a sketchy little beach with a railway in front of it which keeps the crowds at bay. The wind can be really good here and the backdrop here is second to none!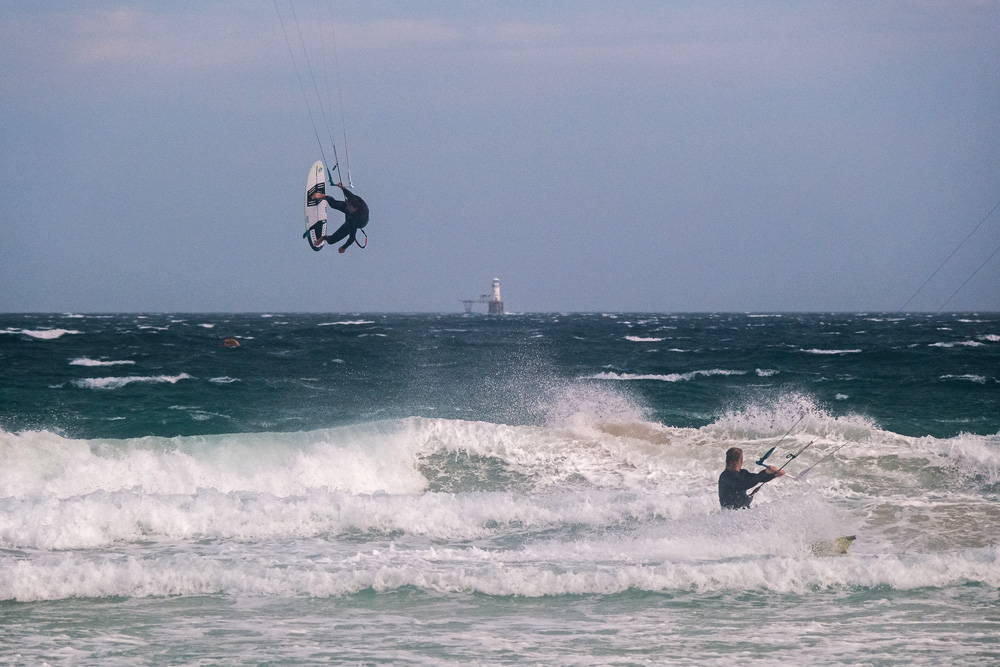 Day 2: The Forgotten Beaches
The session started off in the tidal pool which is right next to the informal settlements in Cape Town which makes for quite a culture shock. In the afternoon we drove up the isolated beach and sessioned an empty line-up deep in False bay near Macassar.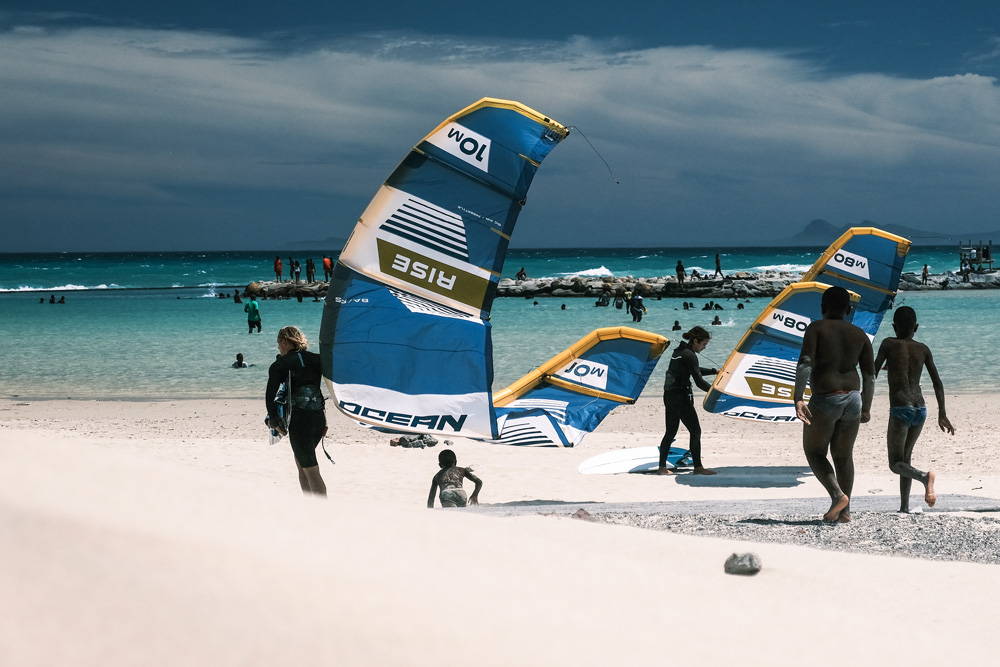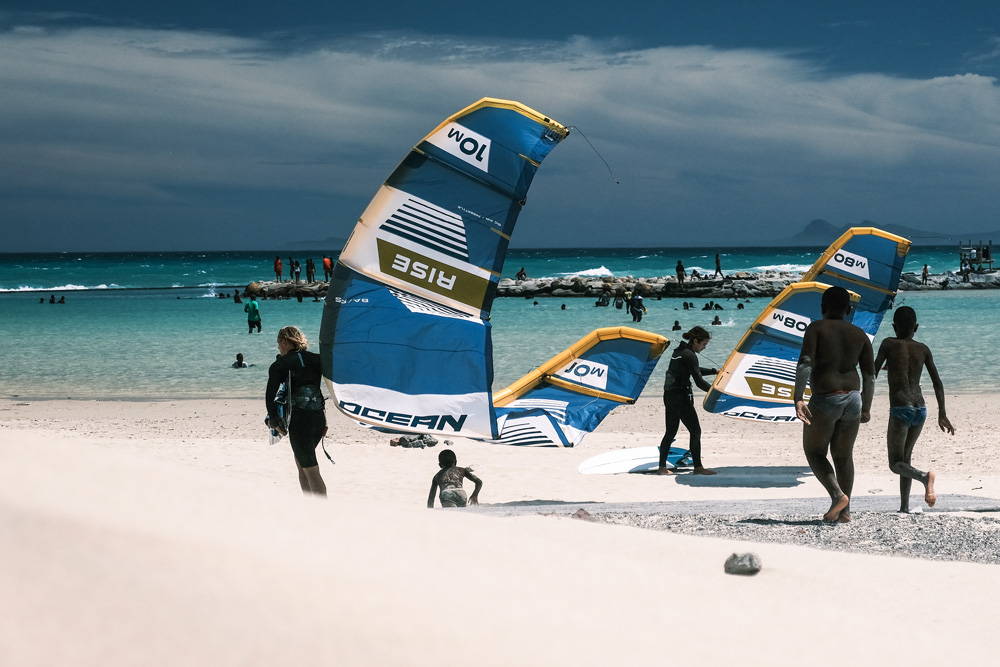 Day 2: The Forgotten Beaches
The session started off in the tidal pool which is right next to the informal settlements in Cape Town which makes for quite a culture shock. In the afternoon we drove up the isolated beach and sessioned an empty line-up deep in False bay near Macassar.
Day 3: The Holy Water
We hit the road up the East Coast to a place called 'Witsand' which is growing in popularity albeit the worlds largest recorded bull shark was caught and released back into this gigantic waterway. This lagoon is buttery flat in warmer waters with great wind.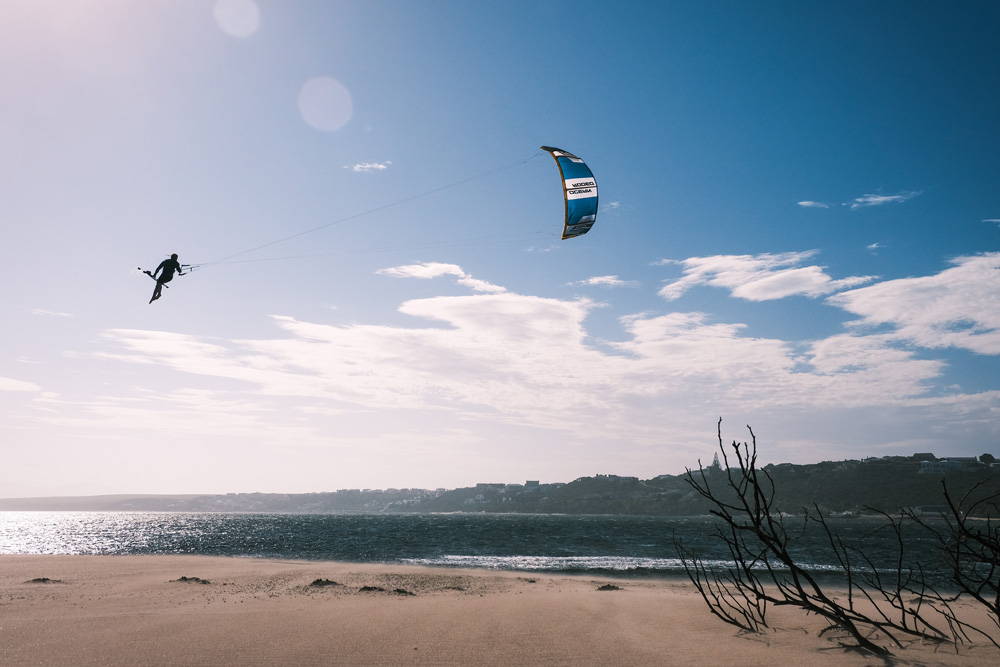 Had you guys met each other before?
Giel: Yeah I'd heard a lot about Keh-Lung but we hadn't met properly until this year in Cape Town.
Keh-Lung: I'd met Giel a few times around the beach after he got to Cape Town, even at his place with the rest of his crew. But until this happened I hadn't actually got to spend proper time with him.
Tell us a little about each of the locations in the film…
Keh-Lung: We scored the best of Africa on this shoot, let me tell you. Our first session on day one we hit a treacherous Big Air spot well known for its nuking winds and massive open ocean swell kickers. Riders love to send it there. Unfortunately, we got a bit skunked, but the spot was in a reserve so the landscape and scenery was beautiful. Later the first day, we sessioned an insane lesser known spot, the beach is kind of a nook in the mountains, probably about 150 meters wide. So a super small spot and fortunately there weren't many guys out that day, so perfect for Giel and I. It has a train track virtually on the beach with the train passing every 10-15 minutes.
Giel: Yeah Glencairn is a truly incredible place to kite! I mean onshore wind with massive mountains in the background and a railway line basically touching the beach. Definitely not the safest place I've ever kited but one of the most special places for sure.
And day two?
Giel: On the second day, we started in a tidal pool somewhere in False Bay. I wasn't sure the locals would like us kiting in their swimming pool but Kyle (Cabano - videographer) had assured me it would be fine. It turned out to also be one of the most incredible places I had ever kited. The locals were cheering us on as we flew over and across their pool.
Keh-Lung: This was a first time session for me at this spot. Absolutely insane on the day we arrived, there were so many people swimming in and around the tidal pool, having an awesome summer beach day. We were a bit wary, but they were absolutely loving the show Giel and I were putting on. Giel even gave a few of the kids some piggy back rides while riding, ha!
After that we went for a session a few kilometers further on, a less popular Big Air spot, known for its super crazy cross shore winds and plentiful kickers. It has the most insane backdrop of the Overberg mountains. This specific beach is also only accessible via the beach so is always a fun drive to get to the spot. Gnarly winds though, with the choppiest landings that day.
And tell us about your final day…
Giel: Yeah on that last day we drove four hours to get to a spot just east from Cape Town. Normally a perfect training location but we were a bit unfortunate with the wind strength so I was riding a 12m Rise for that one.
Keh-Lung: This place is an insane, buttery flat spot with some super green and luscious scenery. Lots of people have been making the mission to this rivermouth this season with the wind being a bit wonky. Unfortunately that day the wind wasn't as good as we were hoping for. It was a bit light, but it was still a noble quest. In the end we still scored an insane session with lots of other mates on the water… I think it was actually just what we needed after some big missions shooting in some gnarly winds. A nice lighter wind cool-off session with some mates was actually the perfect ending to our whole shoot.
Who did the driving?
Giel: Our camera guru Kyle did most of the driving since he knows all the secret spots and owns a 4x4…
Keh-Lung: Yeah Kyle was the tour guide. But I managed to take the ol' Rav for a spin on the beach which was a good time.
Were there any funny stories that weren't captured on film?
Giel: It was actually hard to do anything without Kyle capturing it on camera! If there were funny moments he was right on it…
Keh-Lung: Too many! But I think the best one was probably when I hid Giel's harness from him, convincing him he left it at the first spot we sessioned in the morning. A few minutes of searching for it, he was calling all the guys at the last spot we hit to see if we'd left it there. He got really pissed, I had to confess quickly, I got pretty nervous for a second! Haha!
So what's in the diary for the rest of the year that you're most looking forward to?
Giel: 100% it's the Red Bull King of the Air 2022 for me.
Keh-Lung: It must be the first GKA Big Air event in Spain at the end of June, which has a strapless discipline. Also, the GKA wave stop returning to Mauritius, that's gonna be a big one for sure.
How do you feel to be a part of the Ocean Rodeo family right now?
Giel: The team is incredible. They often describe it as a small family and I definitely feel the same way about that! Communication is superb and we're all seamlessly working towards the same goal without any complaints or questions asked.
Keh-Lung: I feel so blessed and grateful, I think there isn't a better time to be a part of a growing family/brand like Ocean Rodeo. Only up from here!